Welcome, Earthlings, to the official Larz From Mars website!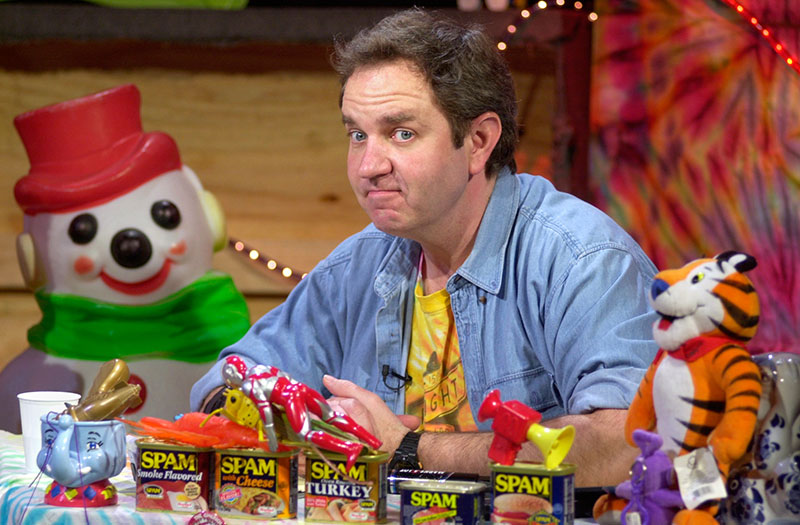 Larz From Mars came here on a mission to study life on Earth. Under strict orders from his home planet he was to set up operations in Washington DC, the news capitol of the world. He would utilize the planets best communications systems - Radio, Television and Internet and produce programming consisting of musical performances and interviews with people from all walks of life. Despite his human appearance, when Larz addresses the people of Earth, it is abundantly clear that he's not from around here. Careful observation allowed Larz From Mars to determine that the best way to get a human's undivided attention is to create a TV show with a brightly colored set, something that will get the viewers attention while flipping through the channels.
The Larz From Mars Show began to appear on the TV screens of Earthlings in 1987.
Humans told each other about the Larz From Mars Show, which enabled Larz From Mars to speak directly to increasingly larger numbers of humans. Soon, other shows, magazines, and newspapers told humans about the Larz From Mars show, too. Earthlings on every continent have tuned in to watch the shows produced by Larz.
Learn more about Larz From Mars
including the handy Earth skills he has acquired.
Watch Video Transmissions
from the Larz From Mars Show.
View Photos
of Larz From Mars, and the humans who have joined his cause.
See what the Media has Reported
about Larz From Mars.
Martian Messaging System:
Contact Larz From Mars.